Top 5 Whole Generators For 2023
---
Our Mission & How We Review Products
At Trustworthyhomeadvice.com, we are dedicated to providing our readers with comprehensive and reliable product reviews. Drawing on 35+ years of engineering expertise, having owned nine homes, along with being seasoned DIY'ers, we meticulously research the products we recommend. From appliances to the latest gadgets, to an extensive array of tools, we've seen it all. When we recommend a product, it's after the same rigorous evaluation we would employ for our own purchases.
Our mission is to ensure you always make an informed choice. We personally use or test many of the products recommended.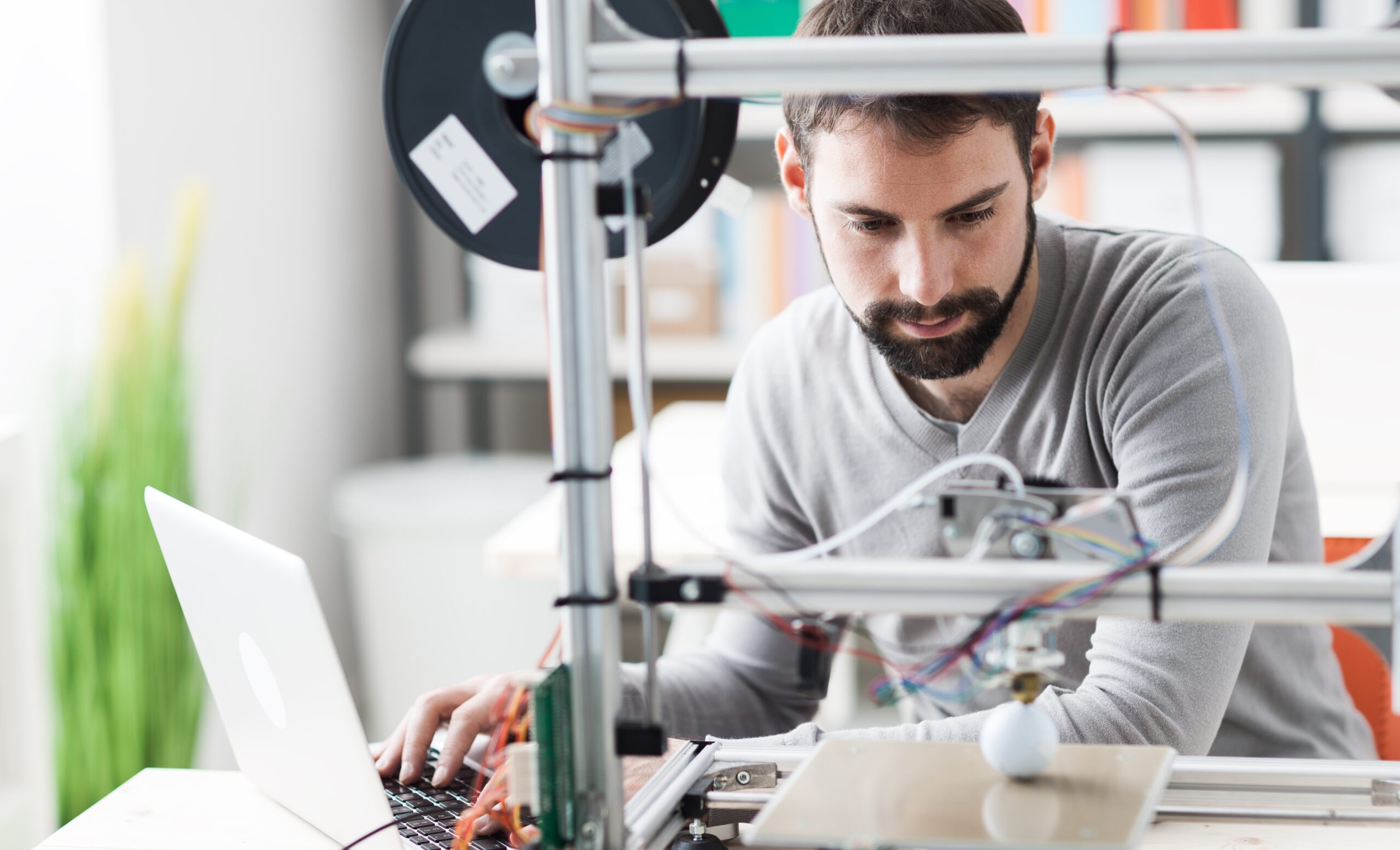 We sift through detailed product specifications, analyze user reviews, cross-reference findings from various sources to identify the top selections then list the Pros and cons. Our Job is to do comprehensive research for you to make the best buying decision.
Introduction to Whole-House Generators
Imagine a storm's brewing outside, and the lights flicker—a familiar prelude to darkness. But what if they didn't have to? Enter the unsung hero of modern comfort: the whole-house generator. It's not just a gadget; it's an insurance policy against the capricious whims of Mother Nature, ensuring that your home remains a beacon of light and warmth, even when the world outside is anything but.
A whole-house generator is more than a backup plan; it's peace of mind. It's the difference between a night spent in the glow of your favorite lamp with a hot cup of cocoa and one spent rummaging for candles and extension cords. But what exactly is this modern marvel? Let's dive in and shed some light on the subject.
Why You Need a Whole-House Generator
When the power grid takes a nap, it's no picnic—unless you're fond of unexpected ice cream soup and flashlight tag. In our case, we have an expensive saltwater aquarium with very expensive livestock. Not to mention, these are our pets as well. A whole-house generator is like having a steadfast friend, ready to pick up the slack when the grid drops the ball, keeping everyone, including pets such as your fish safe and sound. It's about keeping your sanctuary secure and your gadgets running smoothly.
But it's not just about keeping the lights on. It's about preserving normalcy in a world that's anything but normal. It's the convenience of uninterrupted life, the serenity of knowing that come what may, your home will stay humming along. So, why settle for a band-aid solution when you can have a virtual fortress?
How to Choose the Best Whole-House Generator
Choosing the best home generators is akin to picking the perfect avocado—there's a bit of art to it. You've got to consider the size—not too big, not too small. It's got to be just right for your power-hungry abode. Then there's the fuel—natural gas, propane, or diesel? It's like choosing the fuel for your culinary fires.
And let's not forget about the installation dance and the maintenance waltz. It's not just about plugging in a behemoth and hoping for the best. It's about thoughtful placement, regular check-ups, and the occasional tender loving care. After all, your generator is the silent sentinel of your homestead.
Top 5 Recommended Whole-House Generators
Now, let's talk champions of the generator world, the crème de la crème, the best generators for home use that money can buy. We're not just throwing names into the wind; these are the stalwarts that stand tall when the gales of inconvenience blow. We have had a whole house generator in our last two homes. I've done the research on several occasions, and have always come back to Generac.
Generac 24kW Home Standby Generator (Best for Large Homes)
This is the Hercules of home generators, flexing its muscles to keep even the most sprawling estates aglow. It's not just a generator; it's a powerhouse, ensuring that every nook and cranny of your castle is kissed by the light.
Generac 22kW/19.5kW Home Standby Generator (Best for Reliability)
Reliability is its middle name. This generator is the loyal steed, ready at a moment's notice to gallop to your rescue. It's the steadfast guard dog, the reliable old truck—it won't let you down.
Champion 8.5-kW Home Standby Generator (Best for Mid-Sized Homes)
For the cozy cottage or the modest manor, this generator is your knight in shining armor. It's not about size; it's about heart, and this one has plenty to spare.
Westinghouse WGen95000DF Dual Fuel Portable Generator (Best for Versatility)
Why choose one fuel when you can have two? This generator is the Swiss Army knife, the jack-of-all-trades ready to tackle whatever you throw at it.
Champion 76533 Dual Fuel Portable Generator (Best for Budget-Friendly Power)
Who says you can't have champagne on a beer budget? This generator brings the thunder without breaking the bank. It's about smart spending for smart living.
Features to Look for in a Whole-House Generator
When hunting for the best home generators, you want the whole enchilada—automatic transfer switches for seamless transitions, fuel efficiency that would make a Prius blush, and a purr quieter than a cat burglar. And let's not forget a warranty that's longer than a summer day.
These features aren't just bells and whistles; they're the meat and potatoes of a generator that doesn't just perform—it dazzles. It's about having the full package, tied up with a bow of reliability and efficiency.
Installation and Maintenance
Now, don't go thinking you can wrangle this beast with a screwdriver and a hopeful smile. Professional installation is the name of the game, ensuring that your generator doesn't just sit pretty—it roars to life with the finesse of a well-oiled machine.
And maintenance? It's not just about dusting off the cobwebs. It's about regular check-ins, a tweak here, a replacement there, all to ensure that when the time comes, your generator stands up and says, "I got this."
Cost Analysis and Value
Let's talk turkey. A whole-house generator isn't just a purchase; it's an investment. It's about weighing the upfront costs against the symphony of benefits that play out over time. And value? It's like adding a moat to your castle—your home's desirability just leveled up.
So, before you balk at the price tag, remember that this isn't just a generator; it's a ticket to uninterrupted bliss, a badge of preparedness in an unpredictable world.
Frequently Asked Questions
Got questions? We've got answers. From the nitty-gritty of wattage to the fine print of fuel consumption, we're tackling the common head-scratchers that might be buzzing around your noggin.
Conclusion and Final Thoughts
So, there you have it—a tapestry of information woven with the threads of wisdom and experience. A whole-house generator isn't just a piece of machinery; it's a member of the family, standing guard against the dark, keeping your hearth warm and your life uninterrupted.
Consider your needs, weigh your options, and when you're ready, take the plunge. Your future self, basking in the glow of uninterrupted power, will thank you.
Call to Action
Ready to take the leap? To embrace the generator lifestyle? Then don't dilly-dally. The path to power autonomy is but a click away. Secure your sanctuary, and never fear a blackout again.
Generac 24kW Home Standby Generator
✅ Remote Monitoring Anywhere with Mobile Link Wi-Fi connectivity
✅ Whole House Protection with a 200-amp SER transfer switch
✅ 5-Year Limited Warranty for long-term assurance
✅ True Power Technology for less than 5% total harmonic distortion
✅ Proudly engineered and assembled in the USA
❌ Heavier weight at 455 Pounds may require professional installation
John's Take:
The Generac 24kW is a titan of reliability, perfect for large homes needing consistent, clean energy. Its smart controls and comprehensive protection make it a top-tier choice for whole-house coverage. It's a robust investment for those who don't want to compromise on power during outages.
Check Price on Amazon
Generac 22kW/19.5kW Home Standby Generator
✅ Mobile Link Wi-Fi for easy remote monitoring
✅ 200-amp NEMA 3R smart switch for whole house protection
✅ 5-Year Limited Warranty ensures reliability
✅ True Power Technology for clean energy output
✅ Made in the USA with a purpose-built G-Force Engine
❌ May require professional installation due to complex features
John's Take:
This is the unit we have. At the time we purchased, it was the largest air cooled model available. The Generac 22kW stands out for its reliability and smart features. The mobile link is fantastic, I've added a few screenshots of my mobile link below. It's a solid choice for those who prioritize seamless operation and long-term dependability. This generator is a guardian for your home, ensuring that every appliance stays running without a hitch.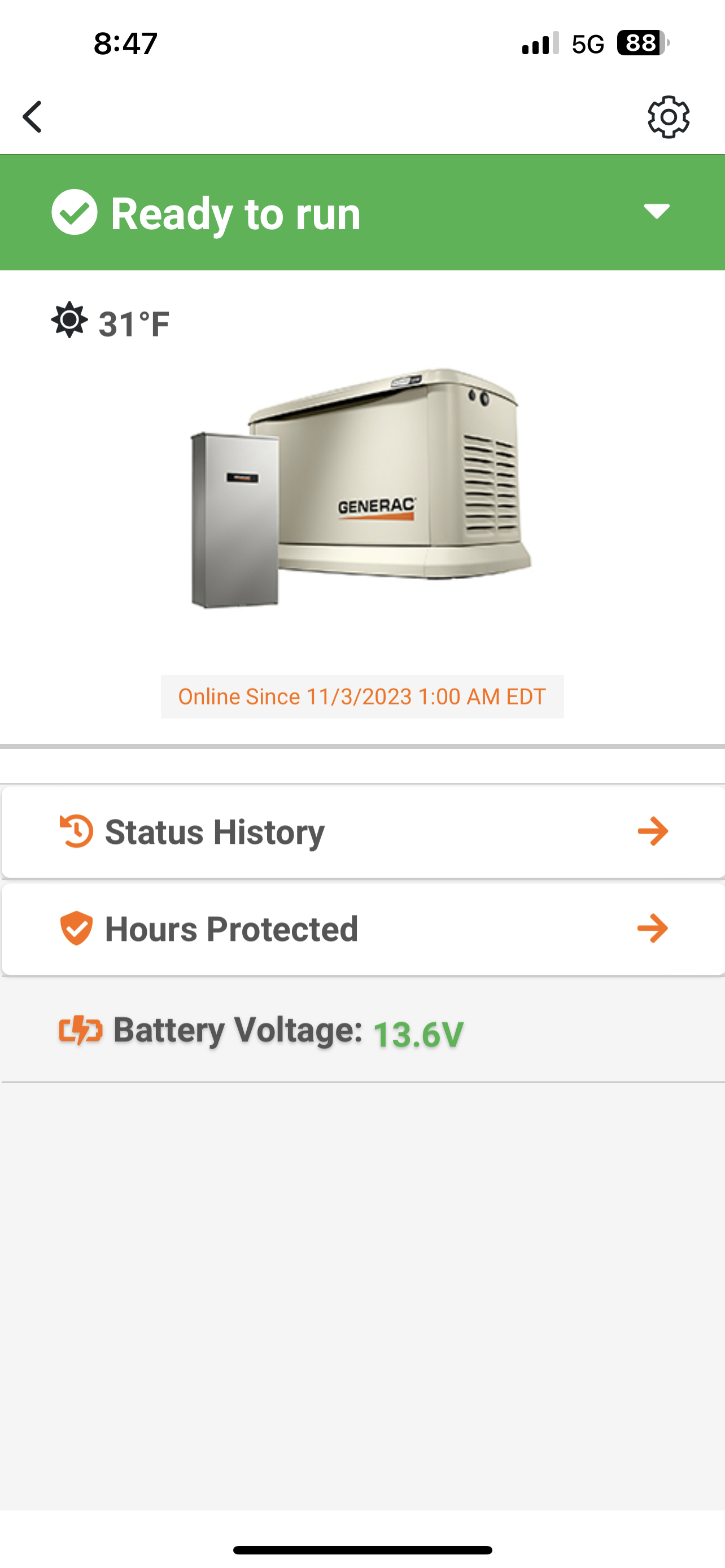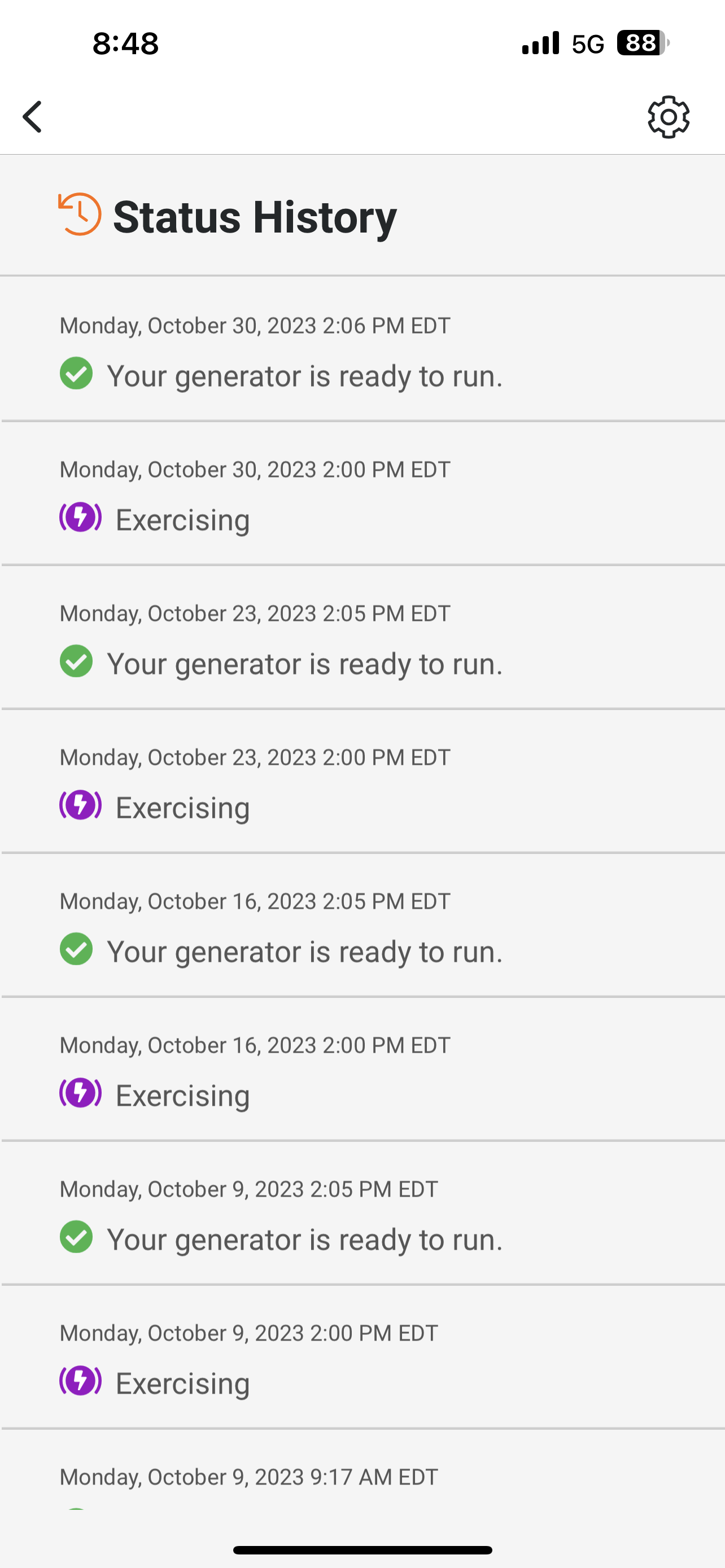 Check Price on Amazon
Champion 8.5-kW Home Standby Generator
✅ Seamless 24/7 power without the need for refueling
✅ Sub Zero Start feature for reliability in extreme cold
✅ Easy installation and service with innovative gullwing enclosure
✅ Quiet operation with low tone muffler and sound dampening
✅ Comes with a 10-year limited warranty
❌ Lower wattage output may not be suitable for larger homes
John's Take:
The Champion 8.5-kW is a whisper-quiet workhorse, ideal for mid-sized homes. Its user-friendly design and cold weather start capability make it a reliable companion for areas prone to chilly weather. A champion indeed for those seeking a balance between power and quiet operation.
Check Price on Amazon
Westinghouse WGen95000DF Dual Fuel Portable Generator
✅ Dual Fuel capability with remote electric start
✅ High wattage output for versatile use
✅ Features multiple outlets for various needs
✅ Durable OHV V-Twin Westinghouse Engine
✅ 3-Year Limited Warranty and customer service network
❌ Heavy unit at over 400 pounds, challenging to move
John's Take:
The Westinghouse WGen95000DF is a powerhouse of versatility, capable of running on both gas and propane. It's perfect for those who need a robust, portable option that doesn't skimp on power. Whether for home backup or work sites, this generator won't disappoint.
Check Price on Amazon
Champion 76533 Dual Fuel Portable Generator
✅ Dual Fuel operation with electric start
✅ Intelligauge feature to monitor power output and maintenance
✅ Multiple outlets including RV ready port
✅ 3-year limited warranty with free lifetime technical support
✅ Budget-friendly without compromising on quality
❌ Lower running wattage may not support all high-power appliances
John's Take:
The Champion 76533 is a budget-friendly beast, offering the flexibility of dual fuel and the convenience of electric start. It's a solid pick for those who want reliable power without breaking the bank, making it a smart choice for occasional use or smaller homes.
Check Price on Amazon