What's best TV for a Bedroom? In my opinion, it is the largest 4K OLED TV within your budget, that looks good where you choose to place it. Think of it as a large picture or mural when picking a size.  With technology today, the bigger the better (within reason). The resolution on modern 4K TVs is so good, being "too close" to the TV is not as much of an issue as it was in the past, and the larger screen allows you to see more detail and creates a theater-type feel.   This does not hold true if you are watching a 1080p TV at close distances, then your viewing may not be as comfortable.
What's the Right Size TV?
I disagree that smaller TVs are generally better for bedrooms these days.  If you're going to have a TV in the bedroom at all, why struggle to see detail?  I also disagree with the premise that larger TVs are more likely to keep you awake. Every TV sold today comes with the ability to program a sleep timer, so use that if watching TV before you fall asleep is your way of unwinding. 
A good rule of thumb from our experience (contrary to most calculators) is that if you are viewing the screen from more than 7 ft away, you can go with a 60" or even a 65" 4K TV.  Most calculators will tell you at 7 ft, the max screen size you should go with is 50", but your viewing pleasure will be much better if you go slightly larger.  I've included a link to a room-size calculator here, but remember, screen size and viewing distances are much more of a personal preference when considering 4K technology, and you will be happier with a larger screen.
What's the Best Location?
Having owned 8 homes, we have had TVs mounted on every wall, on top of dressers, and in an armoire in the corner of the room with all different types of stands and mounts.   I firmly believe that the best location is on the wall at the foot of the bed.  It's the most comfortable and equal viewing position for both of you.  Also, with a wall mount, you can go high as you need to make it easily viewable and not get obstructed by items on a dresser or table.
In most bedrooms, when you go with this location, you will be at least 7 ft from the screen, so our top pics are all 65" 4k TVs.  Of course, the picks are still valid if you choose a smaller (or larger) size.  Take a look at the image below, it's not wall mounted, but it illustrates what the "recommended" size of a TV would be for this install.  Do you want to struggle to see what's happening on your favorite show with a screen this small?  Go Bigger!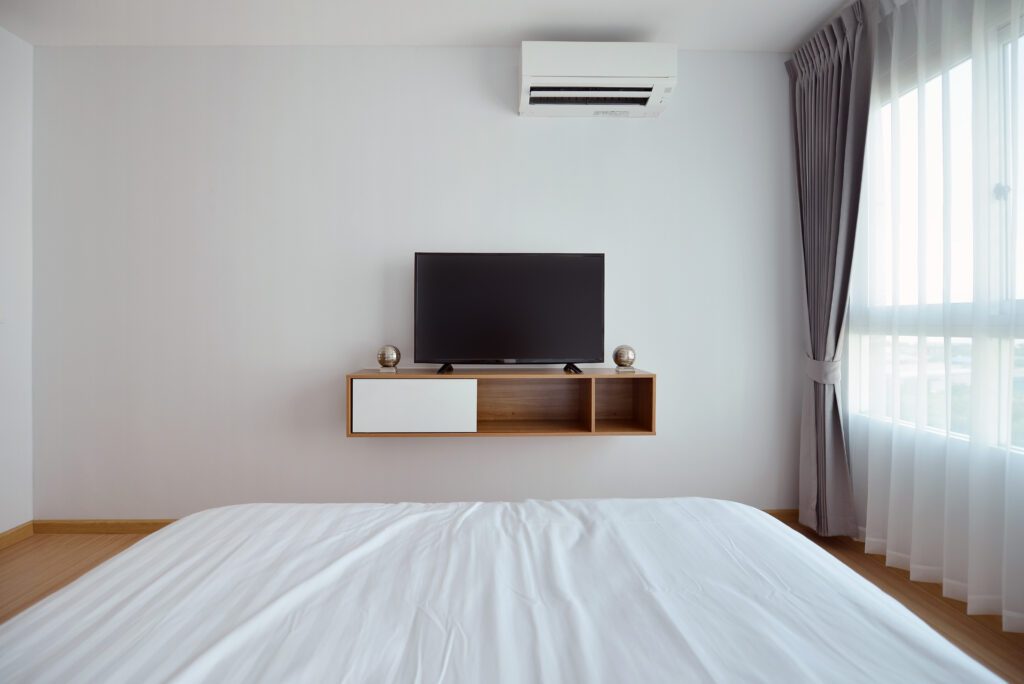 How Should you Mount the TV?
Certainly, a wall mount, but more specifically a mounting bracket that is full motion and can be articulated.  These are a little more expensive than fixed position or simple tilt mounts, but you will be happy you invested in the higher quality mount. 
Not only does it allow you to tilt or angle the TV for any location in the room, but it also makes connecting power cords, internet, HDMI cables, etc much easier.  Here's a picture and a link to a full motion mount I've used not only in our bedroom but in other locations around the house – and it's great.
What TV Technology is Best in 2023?
Without a doubt, a 4K OLED TV is the best choice.  At this point, going with an 8K TV is simply not worth it.  The price is extremely high, and even though the resolution is 4 times that of a 4K HD TV, there is not enough content to justify it yet.  Wait a while, technology may move fast, but a 4K TV will be a fantastic option for many years to come.  
The runner-up, and a still a great choice for the best TV for a bedroom, is the  Sony BRAVIA XR A80J SERIES OLED 4K UHD Smart Google TV.  This would actually be our Top Pick if not for the price point, which is typically about 25% more expensive than our top choice.  However, it is loaded with awesome tech.  This TV has Motionflow XR 240, which is an upgrade to the Motion Clarity offered in our #3 choice below.  It also offers a few more streaming services built in.  So if this fits into your budget, going with the XR A80J is a great option.
#3) Our Third but still a great choice!
We have to call it our 3rd choice, but you can't go wrong with any of the 3. The Sony BRAVIA XR A80K SERIES OLED 4K UHD Smart Google TV is very similar to the Bravia A80J above without the Motionflow tech. We placed it 3rd since it is slightly more expensive than our Top Pick, and the Motionflow of the A80J pushes that to #2. Still a fantastic TV at a similar price point to the LG, however, as we stated above, the LG almost always wins in side-by-side comparisons.
So there you have it, the LG Class C2 Series OLED is our Top Pick for the Best TV for a Bedroom.  Honestly, any of the TVs in this article are fantastic, so you really can't go wrong, it's mostly personal brand preference along with budget considerations.
CLICK HERE TO SEE A SIDE-BY-SIDE COMPARISON OF OUR TOP 3 PICKS FOR THE BEST BEDROOM TV
Trustworthyhomeadvice.com is a participant in the Best Buy affiliate program.  We hope you valued the opinions and data compiled in this article.  We value your time and hope this research has helped you in making the best choice when picking a TV for your bedroom.  
We sincerely appreciate you using the links in this article, they are affiliate links that provide Trustworthyhomeadvice.com a small commission to help fund this blog, but it does NOT cost you anything extra. Also, Best Buy will match any price for the same item if a lower price is found elsewhere.
Thank You for your patronage of Trustworthyhomeadvice.com!