Introduction:
Have you ever found yourself puzzled or a little freaked out by strange sounds and maybe even peculiar "happenings" in your home? It's not uncommon for these occurrences to spark curiosity or even fear. Since this has happened to me a few times, and I'm a person with an engineering degree who believes there is a logical explanation for everything, I thought I delve into the realm of unexplained house noises and a particularly perplexing phenomenon (such as red liquid leaking or "bleeding" from a light switch). Rest assured, we will explore plausible explanations to shed light on these mysteries, reassuring you that your house is not haunted, maybe….
Weird Happenings:
The Creaking Symphony: Eerie creaking sounds are among the most common unexplained noises heard within a house. We have all probably experienced this at least a few times over the years, mostly at night when we are in bed.  While they may send shivers down your spine, there's often a logical explanation. These sounds are almost always a result of the natural expansion and contraction of building materials due to temperature changes. As your house cools or warms up, materials shift subtly, resulting in those mysterious creaks. It's probably not an intruder or a ghost risen from the dead.
Footsteps in the Dark: Unexplained footsteps can be disconcerting, particularly when you're alone. However, before jumping to supernatural conclusions, consider more plausible explanations. Temperature variations can cause structural elements, like floorboards, to contract or expand, creating the illusion of footsteps. Additionally, the settling of a house over time can lead to similar sounds as weight distribution changes.  It's not uncommon for these expansions and contractions to occur in a rythmic patter for a short time.
The Ghostly Bang: A sudden, unexplained bang or knock can startle anyone. But let's consider external factors before assuming paranormal activity. Vibrations from passing vehicles, gusts of wind, or small animals exploring hidden spaces, such as attics or crawl spaces, can all produce startling sounds. Check your surroundings for loose objects or structures prone to movement, which might be responsible for these mysterious noises.
Mysterious Whispers: Hearing faint whispers or voices when no one else is around can be eerie. However, before attributing them to the supernatural, consider the phenomenon of "auditory pareidolia." Our brains are wired to seek patterns and familiar sounds, so when we encounter ambiguous or indistinct noises, our minds attempt to make sense of them by interpreting them as whispers or voices.
The Perplexing Red Liquid: Discovering red liquid leaking from a light switch or an outlet can be perplexing indeed.  This is one that actually happened to us.  The pictures below are from our house in NY in 2015 before we moved to PA.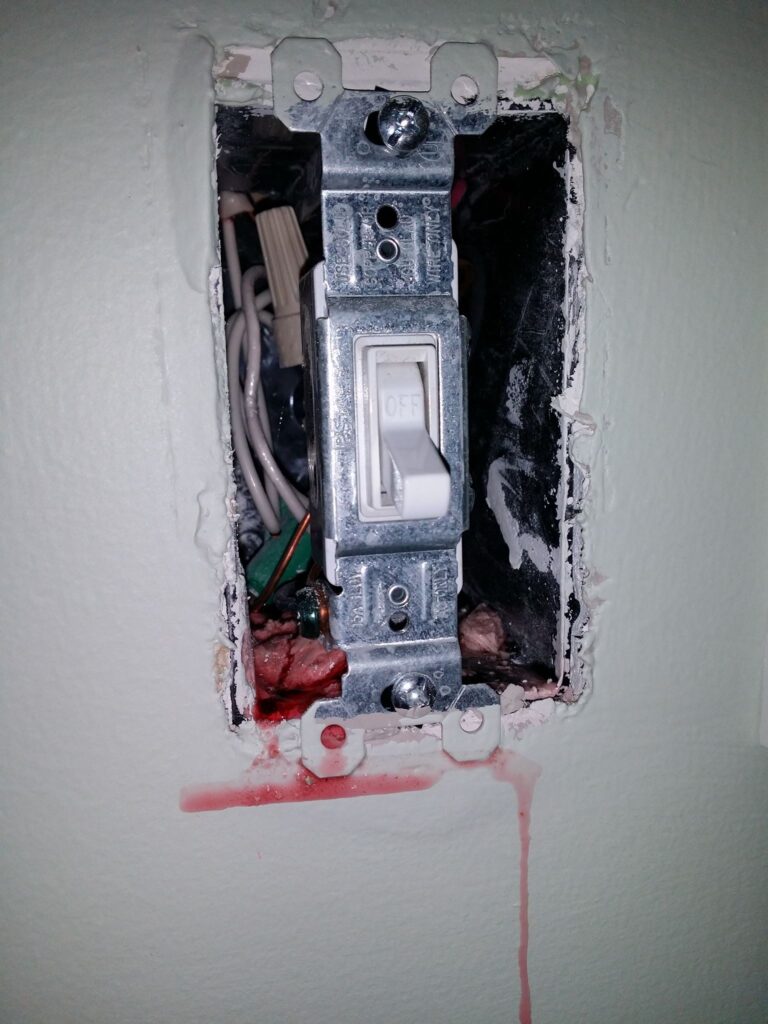 One day I noticed a red liquid dripping from the light switch in our living room. I swear it had the consistency of blood. I'll admit, I was a little freaked out, and was hesitant to take the switch plate off. I was convinced that there had to be some logical explanation, so I put on a pair of latex gloves and slowly removed the plate. The picture on the right shows a close up where you can see disgusting spongy stuff for lack of a better description, looked like brain matter.
Still, I was determined to figure it out, so to the google… The best online explanation I could find was a potential wiring issue, stating that over time, electrical connections can deteriorate, allowing a small amount of moisture to enter the switch housing. When combined with the chemicals present in electrical systems, this moisture can create a reddish discoloration. This still didn't make sense to me as the brain like material present wasn't consistent with this explanation, and where did the liquid come from?
In the end after a few hours of looking all around and surmising, I did come up with what I believe is the actual cause. A few feet directly above the switch box, was an air conditioning duct that exhausted on the other side of the wall in a stair well, so you couldn't see it from the living room. This happened in July, so it was hot and humid outside, and the central air was running around the clock. My conjecture is that condensation from the ductwork inside the wall dripped down the drywall into the switch box, carrying some surface dust with it which over time oxidized and turned red. The brain like material was small bits of insulation that was wet from the condensation. As the central air conditioning ran continuously for a few days, the amount of condensate was enough to make it's way out of the switch box and down the wall. I think this was the cause…..?????
Conclusion
While unexplained house noises and peculiar leaks might initially evoke thoughts of the supernatural, it's important to approach them with a rational mindset. By considering plausible explanations rooted in natural phenomena, such as the expansion and contraction of materials, temperature variations, external factors, auditory illusions, and seasonal factors, you can almost always come up with logical reasoning behind these mysteries. Remember, investigating and addressing these occurrences promptly ensures a safe and comfortable living environment.
The Mysterious Fireplace:
However! There is one weird experience I did have in this same house a few months later and I swear I'm not making this up. My wife and daughter were out of town, so I was home alone for a few days. We had a propane fireplace in our basement. When the fireplace was on, the basement got very warm in a short period of time, so we couldn't leave it on for long. One day I was at work, I left early, around 7am and the house was vacant, no one was home. When I got home that evening around 6pm, it was dark as it was fall and it got dark early. I had not been in the basement since before my wife and daughter left a few days prior, other than walk through the hallway adjacent to the basement as the entry to the house from the garage was through this hallway. When I got home that evening, the fireplace was on. I couldn't see the fireplace directly as it was around a corner, however, I realized it was on because the basement was dark, except for the light from the flame in the fireplace. This immediately created a chilling sensation to me. The room was not hot, so it hadn't been on for long, so there was no way I left it on all day, as I said, I wasn't in the basement at all. I cautiously went to the fireplace and turned it off by rotating the valve to the off position. Yes, I was weirded out, especially since a few months ago, I found a "bleeding" light switch in the living room. It was a manual fireplace, where you had to hold down a button for the pilot to come on, then push an igniter button to light it. I was able to turn it off and turn it back on normally so it was working properly.
To this day, I have no idea how the fireplace was started.
We moved from that house a few months later – and no, we did not tell this story to the new owners since the home inspector verified that the fireplace was in perfect working order. I'm sure there is a rational explanation, but for the life of me, I can't come up with what that might be..
Please leave a comment below if you have any ideas of how my fireplace came on by itself..
If you have a question or a message for us, enter it here
Otherwise you can post a public comment below – Thanks for visiting