I don't know about you guys, but I am completely obsessed with my dog. She's got the smallest toe beans and the sweetest puppy smile, so naturally whenever I get the chance, I try to spoil the crap out of her. Now because she's *extra* she's actually very picky about what she likes to eat, rejecting about half of the treats purchased for her, saying no if her banana slices aren't small enough, and even saying no to peanut butter unless its frozen! I know, she's nuts. However, I've always been a big fan of frozen Kong's for hours of enrichment and free entertainment, so naturally I decided to try making some frozen treats for her. She LOVES them. Now I make a batch for her about every two weeks for big rewards, and here's how I do it.
Ingredients:
Since my dog (her name is KC btw) is my baby I'm very picky about the ingredients that go into these treats. There's no really special recipes here, I just go through my fridge and pantry and grab whatever I know she likes and is healthy for her! Here's everything I grabbed this week: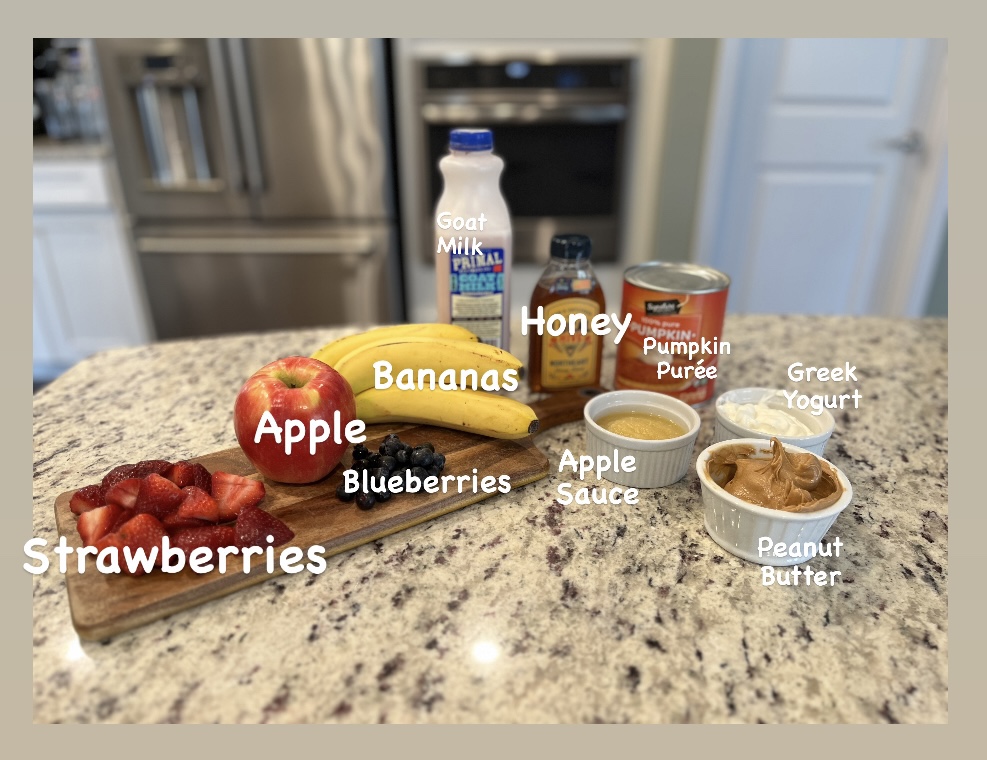 A few notes on these ingredients, the peanut butter I used is natural peanut butter that's literally just ground peanuts, no sugar or xylitol for pups please! The pumpkin is pure 100% pumpkin puree, NOT pumpkin pie filling, as the latter is filled with sugar and spices that aren't dog friendly. I also ended up not using the apple sauce for these treats and just used them for her Kong's (the same is true with the apple), but the apple sauce I use is as you can probably guess, literally just mushed apples; no sugar or seasonings for KC. I ended up not using the honey at all this week, but when I do it's only a very little and usually just to get treats to stick where I want them. The Greek yogurt is whole fat plain yogurt, as artificial sweeteners are generally toxic for your pets.
Finally, you probably noticed the doggy specific ingredient in the back, the blueberry pomegranate goat milk from Primal Pet Foods. We always have a bottle or two in our fridge since the stuff lasts for a really long time, and KC loves it! Plus they make a ton of really fun flavors that tend to inspire my treat recipes. If you want the liquid milk like I used here you probably have to get it in person at your local pet supply store (huge shout out to our local shop where I discovered this product, Three Dogs Bakery in West Chester. Not sponsored I'm just obsessed with everything they do) they do sell their treats online and they're fantastic. Even the picky treat snob KC approves!
Tools:
As for the tools I used, the only specialized doggy specific tools were a couple of cute bone and paw shaped silicone molds which you can get on amazon here. Otherwise I just used a liquid measuring cup (literally just because it has a handle and a pour spout, not for actual measuring purposes) and some spoons for placing my messier ingredients in the molds and that's it!
I made four different types of treats for my pup this week just based off of what ingredients I had on hand and they're all very easy to do, so let's break them down: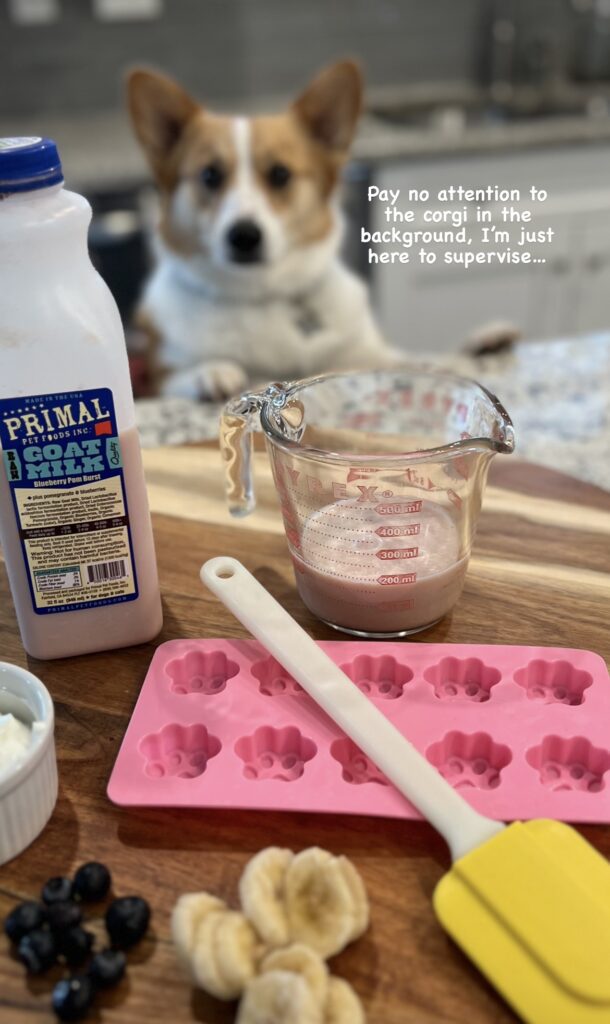 Recipes:
Blueberry Yogurt Treats with Bananas
Start by filling your molds about halfway with your flavored goat milk of choice. I used KC's favorite flavor blueberry pomegranate.
Add a small scoop of Greek yogurt so that your treat molds are about ¾ of the way full.
Add your toppings! I used some chopped up banana slices and blueberries for these.
PB&J with a glass of Milk Treats
Take a small spoonful of peanut butter and smoosh it into half of your mold, making sure you get it in all of the crevices so your cute paw design is visible when they're done.
Add a small spoonful of Greek yogurt to the other half of the mold, again being sure to get it into all of the small crevices. (This is the "milk" in the treat name)
Finally take a slice of strawberry and add it on top! (This is the "jelly," get it? I thought it was cute. Maybe not. I tried.)
Pumpkin Pie with Whipped "Cream" on Top Treats
Add pumpkin to ¾ of your treat mold making sure to smoosh it down.
Add Greek yogurt on top to fill the rest of the mold. This is my version of whipped cream for these treats. That's it, these are really easy and quick.
Blueberry Goat Milk Treats
Pour your flavored goat milk into your molds until they're about half full of liquid.
Add in a few blueberries until the molds are full. That's it!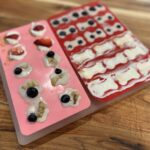 You can probably tell I was getting tired towards the end here since the recipes got progressively easier (or lazier) and less creative but honestly, I could just freeze goat milk into ice cubes and KC would be just as happy as she is with the higher effort treats…  maybe my dog isn't the only one that's a bit extra in my house.
Anyway, that's all there is to it! You can go as crazy or as simple with these as you'd like, but no matter what you come up with I'm sure your dog will love it! Please leave any questions comments or concerns below, and be sure to tag us on Instagram (@trustworthyhomeadvice) if you decide to try some of our recipes!
Bone Appatreato!